Category: Cycling Clothing
| | |
| --- | --- |
| Comfort | |
| Quality | |
| Design | |
| Price | |
Arsuxeo Jacket Rating: 4.0/5
I like:
Lightweight
Warm
Breathable patches
Price
I don't like
Zippers quality control could be better
Summary: Cheap, good quality jacket. It's windproof and will keep you warm. While it's waterproof in light rain, it's not suitable for heavy rain. A couple of customers mentioned problems with the zippers, so be sure to check them when you get it.
If you're looking for a good lightweight jacket that won't break the bank, you can't go wrong with this one.
How waterproof is it?
There's one thing you should know before reading this review: This jacket has non-waterproof areas for breathability purposes. They're located on the arms and chest (highlighted in the picture below).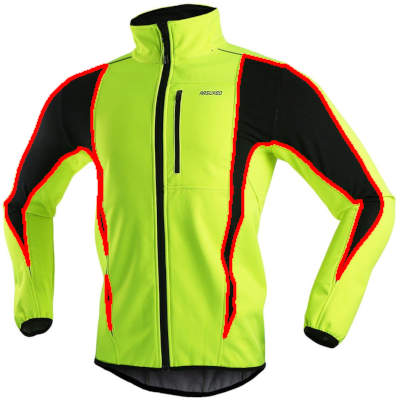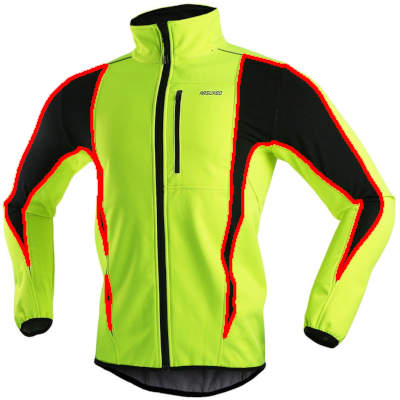 But is this a big deal?
That's for you to decide. This jacket won't fully protect you in a downpour, but it's great for light to moderate rain since the breathable patches are wind and water resistant. If you frequently ride in heavy rain, then this jacket isn't for you.
Is it warm enough?
Yes, it is warm enough for freezing temps. It also depends on what you're wearing underneath. Read on for more details.
This is a unisex jacket, but the size is on the smaller side. Order one size up. Or two even, if you're going to wear 2 or more layers underneath it. That said, this is a cycling jacket, so it should be a tight fit.
Now that that's out of the way…
The jacket comes in 4 colors: Green, black, orange, and red.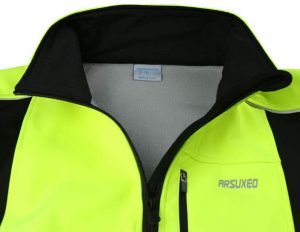 The jacket's fleece lining means that you could wear just a short or long sleeve base layer underneath it, and it would be enough to keep you warm. If it's freezing, you might want to add a layer or two, as long as the jacket's size allows it.
So keep that in mind before picking a size when ordering. Click here to order from Amazon.
Of course, it all depends on your riding style. I like to get a good workout when riding, so I wear a short-sleeved jersey and shorts in temperatures down to 50 degrees, plus a light waterproof jacket if it's raining. If you have a more relaxed style, you will need more layers to keep you warm.
Did you know that when it comes to winter cycling, layers are the most important thing to keep you warm? As temperature decreases, the number of layers increases. I recommend a good base layer: It lets your skin breathe while keeping moisture away from it.
Just remember: When you first go outside, you shouldn't be all warm and comfortable before you even mount your bicycle. Because if you are, 5 minutes later you're going to be sweating profusely.
When it's cold and I'm going for a ride, I make sure I'm really cold at first. This way I won't be all hot and sweaty while pedaling 10 minutes later.
You'll also want to know:
Weighing just under 1 lb, the jacket has a left-side zippered chest pocket, and one on the back without a zipper. The front one is ideal for your phone or other things you want to keep dry.
The Arsuxeo Warm UP windproof and waterproof jacket is one of the best value winter jackets I've seen.
And this is why:
The fabric is high quality.
The stitching is sturdy.
Windproof and waterproof (except for the breathable areas around the arms and chest).
It'll keep you warm.
It's cheap.
Like with all value items, make sure to check everything when you receive it. Some people have had problems with this jacket's zippers. If a zipper is broken or if you have any other problem, contact your seller.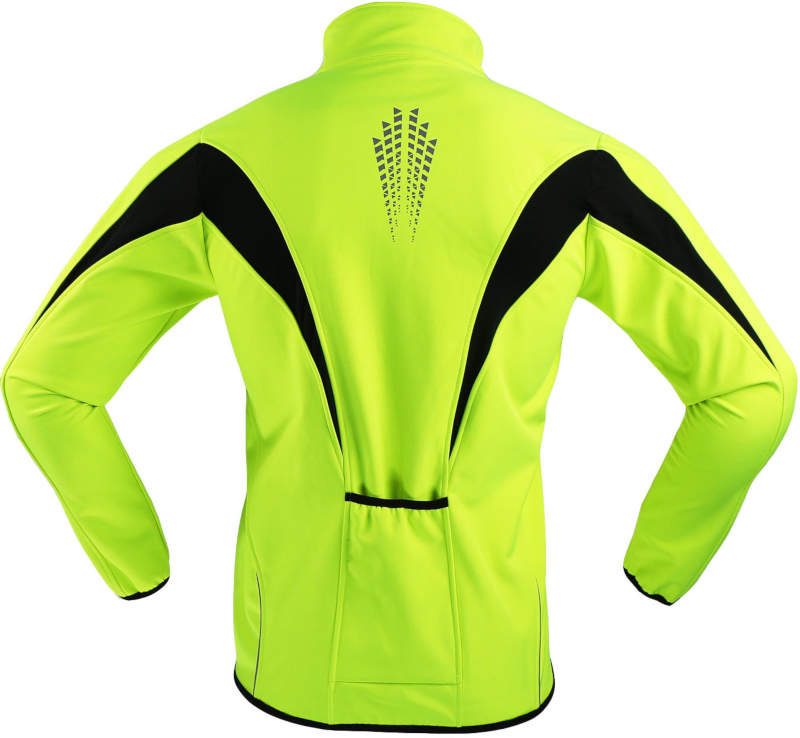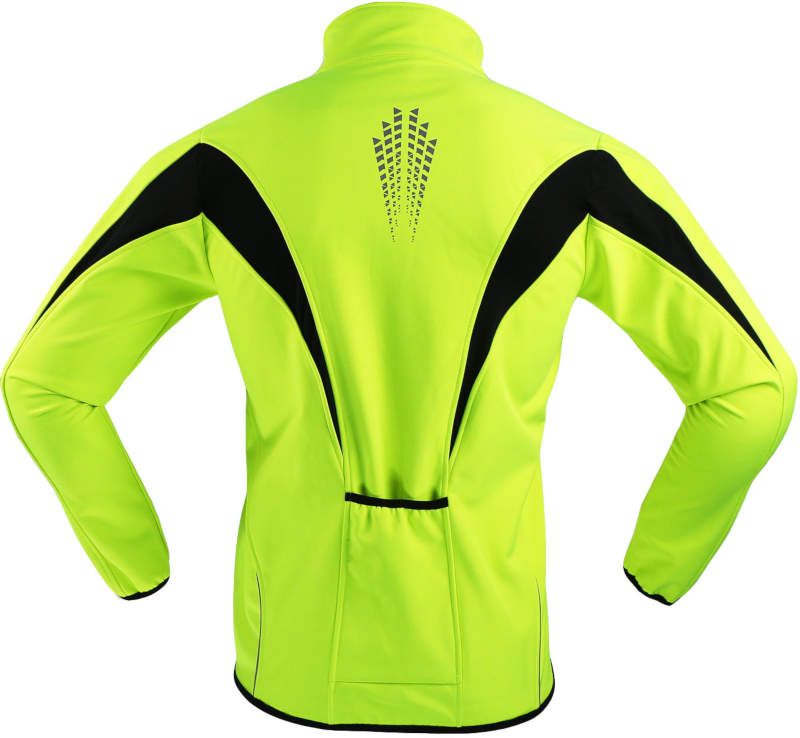 The jacket has some reflective elements, but they're minimal. Don't rely on them. You should have active lighting when cycling after dark. I turn my my bike lights on even during the day just to be sure I'm conspicuous.
I hope I've covered everything about this jacket. If you have any questions, let me know in the comments below. Cycle safely, and may the tailwind gods smile upon you!