Giro Fixture MIPS Helmet Rating: 4.3/5
| | |
| --- | --- |
| Comfort | |
| Fit | |
| Ventilation | |
| Build Quality | |
| Weight | |
| Price | |
Searching for an affordable, good quality helmet? I'll help you find out if Giro Fixture is the right helmet for you. It'll protect your head with the latest technology for an affordable price: MIPS (Multi-Directional Impact Protection System) provides improved protection against certain impacts. Its 18 vents provide good airflow to cool your head. A micro-adjustable dial at the back of the helmet ensures an ideal fit. It also has a removable visor.
Giro Fixture helmet features:
Size: Universal (Roc Loc micro-adjustable dial) 21.25″-24″ (54-61 cm)
Visor: Yes, removable
18 vents
Quick-dry padding
MIPS: Multi-directional Impact Protection System
Full Hardbody shell
In-mold polycarbonate shell with EPS liner
10.7 oz (303 g) (MIPS version)
Giro Fixture Strengths: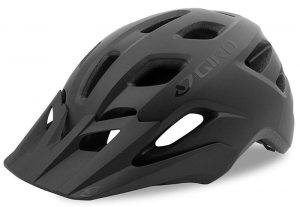 This helmet has MIPS, so it's safer during a crash, especially when there's rotational motion of the head. More head protection is always better, so paying a little extra for MIPS is a very good idea. I hope you won't need it though!
Being a Giro helmet, the quality is good. I really like the design. The rear isn't pointed, it's somehow flat and aesthetically pleasing.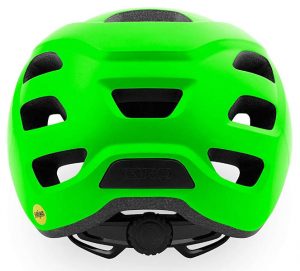 The visor can be easily removed if you don't need it, and can just as easily be reattached.
If your head size is between 21.25 – 24 inches (54 – 61 cm), Fixture is Universal Fit, so you don't have to pick a size while ordering. The Roc Loc system is a time-tested Giro technology, and the micro-adjustable dial is extremely easy to use.
The 18 vents provide good airflow. Could better head cooling have been achieved? Definitely, but that would've affected the price negatively. This is also true for the helmet's weight: lighter means more expensive.
Just a warning, though: if you like the Matte Grey helmet that you see in practically all the online shops, it's not the helmet's true color. Someone messed that up, I guess!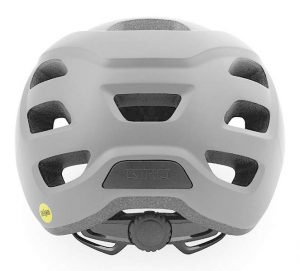 Several people have complained that the "Grey Matte" color isn't, well, grey matte. It's more light grey, or even white. The images of the Grey Matte Giro Fixture everywhere, even on Giro's website, are misleading. So I've tweaked that image a little bit to give you an idea of the true color.
Recommendation:
Giro Fixture with MIPS technology is a very good choice if you're looking for a lightweight, well ventilated helmet with a visor. Giro's Universal Fit assures a good fit and comfortable rides. The straps are adjustable, and the padding is comfortable.
For the money, this helmet is tough to beat. Buy it now from Amazon. Have fun riding, and stay safe!