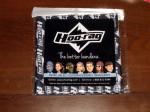 Hoo Rag Rating: 4.5
| | |
| --- | --- |
| Comfort | |
| Quality | |
| Design | |
| Price | |
The Hoo Rag is a multifunctional headwear. This means that you can wear it as a head band (Alice band), balaclava, neck warmer and plenty of other ways.

My wife and I have been using the Hoo-Rag for almost a year now. For cycling, I'd definitely recommend it as an all-year-round headgear. In freezing temperatures, I use it as a balaclava to keep my head warm, and also to keep me from breathing in cold air. In the summer, while I prefer not to wear anything on my head except a helmet, the Hoo-Rag definitely protects the neck against the sun. In that case, it's better to get a light-coloured one to keep the heat off.
You can buy a Hoo Rag on the official site, or on Amazon. There are different ways to wear a Hoo-Rag. Go to the "What's a Hoo Rag?" page on the official site for some ideas. This video shows how easy it is:
I have a pretty large head, so standard hat sizes don't fit me. The Hoo Rag stretches quite a bit, so I didn't have any problems putting it on.
As for comfort, the Hoo Rag breathes, and it wicks sweat away. It's also seamless, which is great, especially for people with sensitive skin. And if you have long hair, the Hoo Rag will help keep it out of your face.
All in all, I love this little piece of cloth. So simple, yet very complex and flexible. You can virtually do anything you want with it.
Update: Hoo-Rag now comes in newer colors/designs. My wife picked another one, the Hoo-Rag Polka Party. There are more sophisticated designs to pick from on their website, but this one is awesome. There's one drawback, however: My wife loves it so much, that I can't make her take it off! 😛
The first Hoo-Rag I got 2 years ago is still going strong. How often can you say this about anything, these days? Now that I think of it, I should raise the quality rating. It certainly deserves it.