Topeak Turbo Morph G Rating: 4.7
| | |
| --- | --- |
| Efficiency | |
| Ergonomics | |
| Build Quality | |
| Price | |

Advantages:
Efficient
Light
Ergonomic T-handle
Flexible hose
Fold-out foot pad
Nice design

Disadvantages:
Is Topeak Turbo Morph G the right pump for you? It is, if you agree with the following statements:
You need a full size frame pump, not a mini pump.
You want a gauge.
You want to be able to inflate your tires fast…
…without too much effort, using your body weight against the ground.
When I was in the process of buying myself a new pump, I also wanted it to be my only one. That's mainly because my apartment is small and even a floor pump would take too much space. So I got the Turbo Morph, and the only space it takes is on my bike's seat tube.
The package contains the following items:
Topeak Turbo Morph G pump
Mounting bracket
2x Screws
2x Rubber pads
2x Zip ties
Basic instructions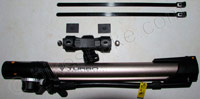 Mounting the pump can be done in two ways. You can use the mounting screws located on your bike's frame. But your bike might not have such screws. Or maybe you've already used them to mount bottle cages. In this case, don't worry. Topeak Turbo Morph can be mounted using zip ties (included). I mounted mine using zip ties, and it's been holding up really well. It didn't even budge when I rode down a cobblestone street the other day, though my arms almost fell off at the end of that road.
The Turbo Morph G is light, weighs only 280g. But it feels really sturdy. The flip-out analog gauge is accurate. I compared the readings it gave me with a digital manometer and it was spot on. The pressure gauge is easy to read, unless your eyesight isn't perfect and you're not wearing your eyeglasses. In that case, our friend the Red Arrow comes to the rescue. It can be rotated and positioned on your goal pressure, so you don't have to squint and strain your eyes to be able to see the numbers.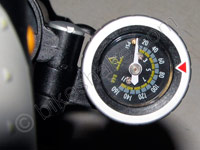 A close-up of Turbo Morph's gauge.
Like other owners of the Topeak Morph series, you'll like the flexible hose system. Other frame pumps have to be directly connected to the valve while pumping. The stress on the valve associated with this causes valve stem damage. Connecting a pump through a flexible air hose prevents damaging the valve. And it also allows us to use the Turbo Morph as a floor pump.
The Turbo Morph G pump can be used to inflate tubes with either Schrader or Presta valves. There's a drawing on the back of the pump's box that instructs us on how to switch between the two. Doing this takes about 15 seconds, and is needed only if you have bikes with different valve types.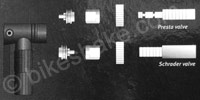 The T-handle is a great idea, and lets you push harder against the ground.  Its width is 2.5 inches (6.5 cm). Unless you have really big hands, you'll be comfortable using it.
Click on a thumbnail for a larger view. Press arrow keys or click on the left/right of the picture to see previous/next one.
Topeak Turbo Morph G (Gauge) Specifications:
Capacity : 160 psi / 11 bar
Size LxWxH : 12.7 x 2.3 x 1.2 in | 32.2 x 5.8 x 3 cm
Gauge : Flip-out analog
MSRP : $41.99
Head: Presta/Schrader
Weight: 0.62lb/280g
For a quality pump with such an original design, Topeak Turbo Morph's price isn't bad at all. And with Topeak's amazing customer service, you can't go wrong! You can buy it on Amazon or from ChainReactionCycles.
The plastic foot pad hasn't broken in months of use. A metal one would give the Turbo Morph G a more solid look and feel, though. Having said that, I wouldn't think twice about getting another one, if I needed it. Good job Topeak!